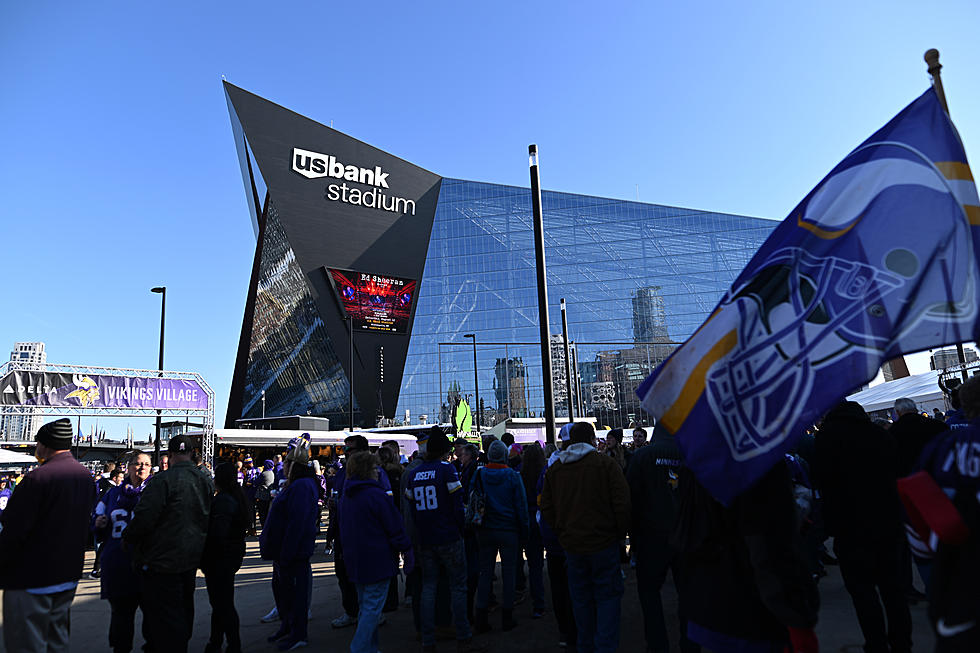 Minnesota Vikings Single Game Tickets Go On Sale Thursday
Getty Images
The Minnesota Vikings have announced that single game tickets will go on sale this Thursday. The Vikings will host ten home games this year at U.S. Bank Stadium in downtown Minneapolis, with two of those being preseason matchups.
The tickets are only available online through Ticketmaster and require a credit card for payment. The Vikings say no tickets will be offered through their box office or a Ticketmaster outlet.

2023 MINNESOTA VIKINGS HOME GAMES
Saturday, August 19: Tennessee Titans, start time 7 p.m. (Preseason)
Saturday, August 26: Arizona Cardinals - Noon (Preseason)
Sunday, September 10: Tampa Bay Buccaneers - Noon
Sunday, September 24: Los Angeles Chargers - Noon
Sunday, October 8: Kansas City Chiefs - 3:25 p.m.
Monday, October 23: San Francisco 49ers - 7:15 p.m.
Sunday, November 12 : New Orleans Saints -Noon
Monday, November 27: Chicago Bears - 7:15 p.m.
Sunday, December 24: Detroit Lions - Noon
Sunday, December 31: Green Bay Packers - 7:20 p.m.
Game times are subject to change due to the NFL's flexible scheduling policy.
The Minnesota Vikings will hold their first full team practice at training camp in Eagan tomorrow. Fans can begin attending training camp this Saturday.
LOOK: MLB history from the year you were born
Stacker
compiled key moments from Major League Baseball's history over the past 100 years. Using a variety of sources from Major League Baseball (MLB) record books, the Baseball Hall of Fame, and audio and video from events, we've listed the iconic moments that shaped a sport and a nation. Read through to find out what happened in MLB history the year you were born.