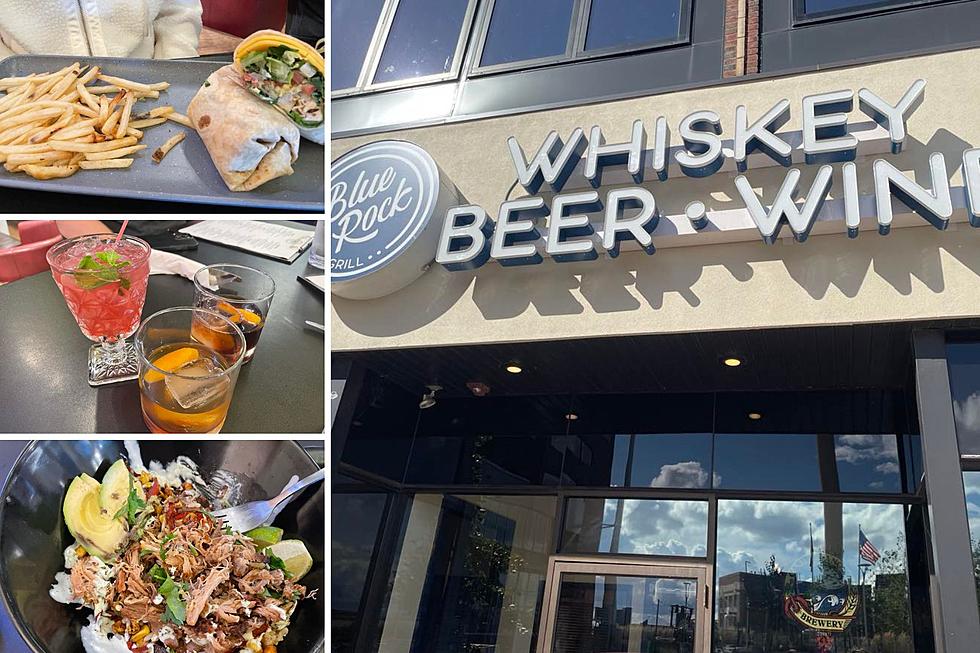 Blue Rock Grill In Downtown Duluth Brings A Fresh New Taste To Superior Street
Ken Hayes
I was lucky enough to score an invite to the soft opening that took place this week at the new Blue Rock Grill in Downtown Duluth. The location previously was 7 West Taphouse, but that closed last month to make way for this new business venture.
Don't worry fans of 7 West, there is still your burger joint available in Superior and at Maple Grove Road. Both the Blue Rock Grill and 7 West Taphouses are owned by the same group.
Blue Rock Grill has new signage, and a fresh look inside, and it was very bright and welcoming.
We pulled up to a high-top table and took a look at the menu. It was almost 1 pm and we decided that we needed to try something off the cocktail menu. Their specialty drinks looked intriguing.
I like a good old-fashioned, and the Bacon Bourbon Old-Fashioned got my attention. (You had me at bacon!)
Bacon infused Panther Ordeal, maple syrup, Angostura Bitters, Jerry Thomas Bitters.
It was super smooth, and rich, but not over-the-top. It was a very balanced drink and one of the best old-fashioneds I've had. It was a great sipper and I really wanted another, but alas I have a job, family, and responsibilities and I can't sip old-fashioneds all afternoon on a Thursday.

My co-worker Nick Cooper from Mix108 ordered a PB & J Old Fashioned.
Screwball Peanut Butter Whiskey, creme de cassis
He really liked his and was trying to figure out how he could make one at home.
Lauren Wells from B105 pictured here, ordered the Pomegranate Jalepno Mojito. She apparently didn't want her picture taken.
Bacardi Superior, pomegranate/jalepeno syurp, lime juice, mint, soda
She loved her as well. So far we were 3/3 at Blue Rock.
We ordered up some nachos for an appetizer and it was really good. We ordered ours topped with chicken.
triple cheese sauce, pickled onions & jalepenos, salsa verde, cilantro, lime crma, pico de gallo
I really liked the pickled onions. I don't know if I've ever had that before. The pico de Gallo "was on point" as Nick put it. The triple cheese sauce was brilliant. Why just have one cheese on your nachos? Why have I never thought of multiple cheeses?
Next, we put in our orders for our entrees. I ordered the Fajita Bowl with pulled pork, Lauren ordered a chicken wrap, and Nick got the pulled pork sandwich.
I loved my fajita bowl. I'm a sucker for burrito bowls, and what I liked about this was the roasted peppers they threw in. Actually, I liked all of it. It had a very fresh, healthy taste. It was a nice balance of ingredients, and I was stuffed by the time I finished it. I picked pulled pork for my protein, and the pork had so much flavor.
I can't wait to go back and try the Tuna Poke Bowl. I was torn between the two, so that will be my next trip.
Nick loved his Bourbon Onion Pulled Pork, it was packed with flavor. It came with smoked gouda cheese and bourbon BBQ.
Lauren ordered the Chicken Bacon Avocado Wrap. Just the name tells you everything you need to know, but it came with grilled chicken, bacon, avocado, onion, Tillamook cheddar, ranch, tomato, arugula, and romaine, in a flower tortilla. Fresh, delicious, and even visually pleasing.
The service was good, the food was great, and I can't wait to come back for another fun and fancy dining option in Downtown Duluth!
22 Underrated Twin Ports Restaurants You Should Check Out