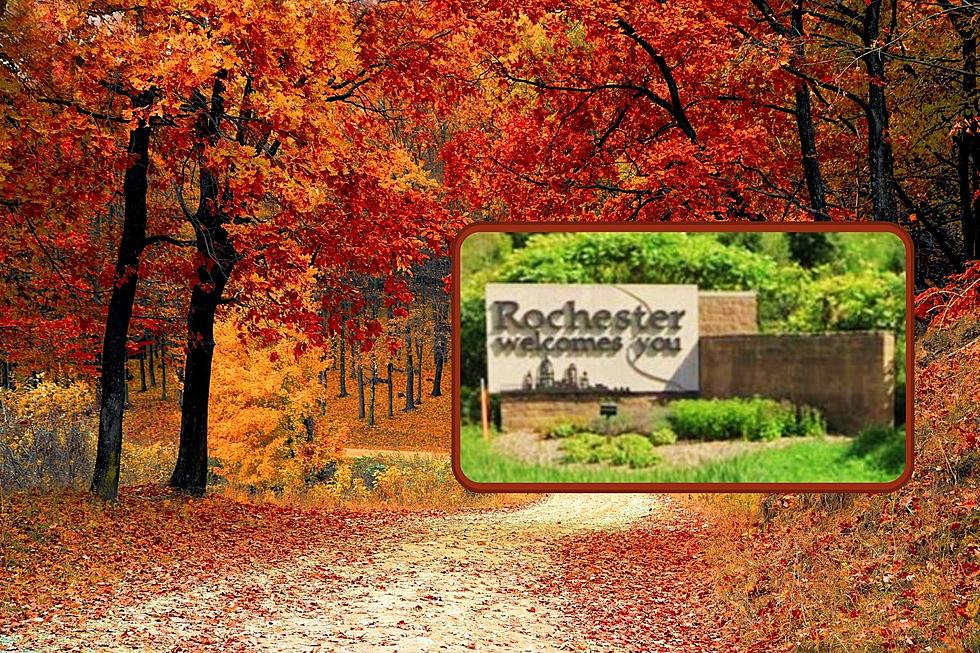 Rochester Named One of the Best Fall Destinations in the Country
Canva / Google Maps
If you enjoy leaf peeping, you may consider taking a trip to go see fall colors at some point. While there are a lot of beautiful places for that in Minnesota, it turns out that one of the best places in the country to take a fall trip is actually right here in Rochester, Minnesota!
Out of a list of 14 fall vacation spots, Rochester made the list and is actually the only Minnesota town to make the list.

How Rochester Ended Up Being A Fall Vacation Destination
This list was looking specifically at places to visit in the fall that aren't overcrowded. As the post from Trips to Discover writes, there are lots of amazing places to see fall colors but the big ones that we hear about all the time become super busy during fall.
So if you're looking for a place to avoid the crowds but still enjoy some beautiful fall colors and fall activities, these 14 spots are the places to go.
Rochester, MN in the Fall
As people who live in or near Rochester, we know how beautiful it gets here. The colors are awesome and we have plenty of places nearby to go take a hike and check the colors out in all their glory. For example, we have Quarry Hill, Whitewater State Park, Carley State Park, and Chester Woods.
There are also plenty of places to enjoy fall activities. We have pumpkin patches, lots of places to go apple picking, and there are spooky trolley rides with the Rochester Trolley Company.
The other places that made Trips to Discover's list of great, uncrowded fall destinations are Greenville, SC, Laramie, WY, Great Basin National Park in NV, Fayetteville, WV, Copper Harbor, MI, The Black Hills in SD, Telluride, CO, Jackson Hole, WY, Sonoma, CA, Sedona, AZ, Bend, OR, and Yosemite National Park in CA.
St. Paul's 'Most Mysterious House' Might be Haunted and You Can Spend the Night
A unique place to stay in St. Paul, MN might also lead to some paranormal interactions. It has been named the 'most mysterious house' in St. Paul but it also may be haunted.