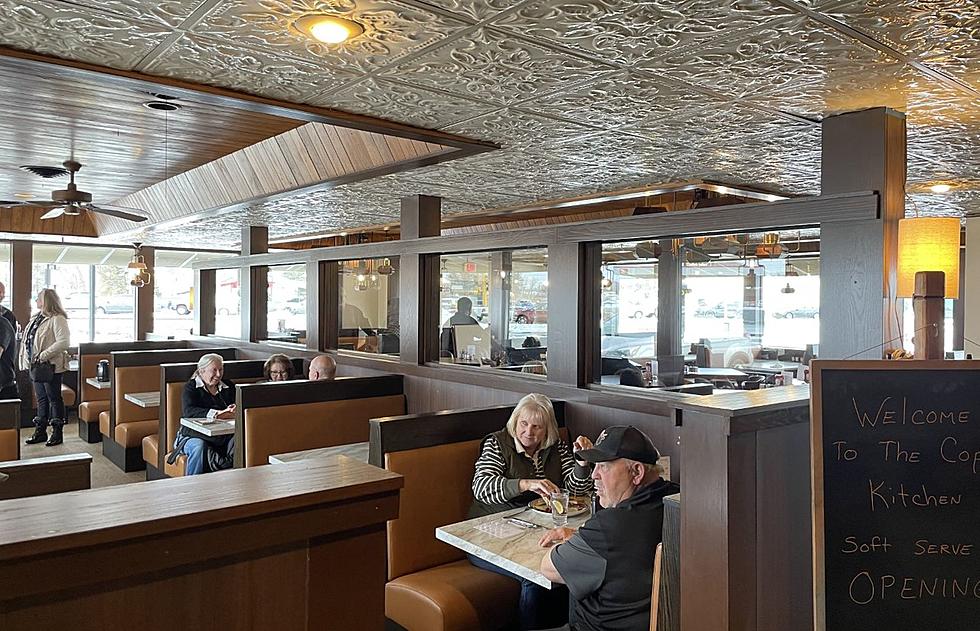 Former Copper Lantern Reopens As Copper Kitchen on Wednesday
Copper Kitchen, photo by WJON.com's Jim Maurice
ST. CLOUD (WJON News) -- With a fresh new look and some brand new menu items the new Copper Kitchen will be open for breakfast on Wednesday morning.
The Copper Lantern was closed since February 1st so the place could get an update.
Owner Maddie Waseka describes it as about a 75 percent refresh with new flooring, new booths, new table tops and an updated color scheme.  However, longtime customers will still recognize the restaurant with a lot of the same woodwork, the copper lanterns and hoods, and also the familiar breakfast counter and original chairs.
Waseka says the new name is an ode to both of the previous names the Country Kitchen and the Copper Lantern.
She says the menu is still breakfast centric with many of the menu favorites still there, but she has added a few new menu items as well.
Earlier this year the St. Cloud City Council approved a wine and beer license for the restaurant which is now offering mimosas and craft beer. 
The Copper Kitchen's hours are seven days a week from 6:00 a.m. to 3:00 p.m.
While the work on the interior wraps up, you should expect to see some new signage with the new name and logos on the exterior of the building in the coming weeks.
She says she wants to be a catalyst for change on the east side and hopes the new look to the restaurant will be just the beginning of many new things to come for the east side of town.
Maddie Waseka is the third generation in her family to own the restaurant at 15 South Highway 10 in St. Cloud.  It opened in 1966 with Bob and Ila Waseka starting the Country Kitchen.  In 1980 John and Mike Waseka bought it and changed the name to Copper Lantern.
READ RELATED ARTICLES
Here are the Restaurants that Opened in the St. Cloud Area in 2022