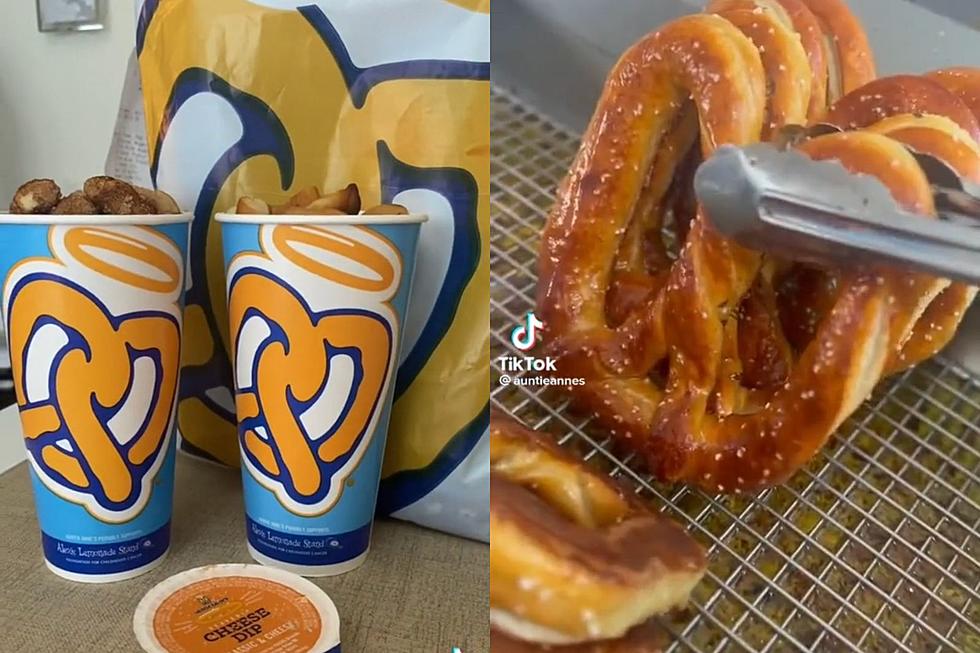 Famous Pretzel Place Will Now Have 1st Standalone Location In Minnesota
Photos from @autnieannes on TikTok
Okay if you have been to any mall and you walk around and stubble upon the yummy smell of soft pretzels you might have one or two iconic names in mind.
If Auntie Anne's Pretzels came to your mind, get excited because they will soon have their own drive-thru restaurant in Minnesota.
If you didn't know, while there are 11 Auntie Anne's locations in Minnesota, all of them are either in malls, the MSP Airport, or Valleyfair, and it is like this pretty much across the nation.
Ever since the nation's first Auntie Anne's and Jamba combined drive-thru restaurant opened in Texas back in 2021, the company has been working hard to build more locations to honor the high praises.
Now that the Company has a drive-thru restaurant in Texas and recently North Carolina, they are looking to expand to the Midwest, specifically Minnesota.
According to an article from Bing Me The News, "The Burnsville City Council is expected to vote April 4 on Boos Development Group's plans to build the pretzel, coffee, smoothie, and juice shop on vacant property at the southeast corner of County Road 42 and Newton Avenue."
This is planned to be the first location in Minnesota and the team at Boos Development Group hopes to build 6 or 7 other locations in the future.
Bring Me The News Describes the Drive-Thru Building:
The building will be just over 1,000 sq. ft. and feature a small outdoor seating area and walk-up window for customers who don't use the drive-thru, according to the plans. There will be no indoor seating, but a public restroom will be accessible.
This has all recently come about due to the pandemic and the shift in consumer demands. The Atlanta-based Focus Brands, the parent company behind Auntie Anne's and Jamba, recognizes this and shares that they see the "importance of building off-premise offerings and evolving [their] development capabilities to provide franchisees with additional opportunities, including co-brand locations that have the potential for enhanced revenue," as stated by Focus Brands Chief Development Officer Brian Krause.
Bring Me The News also adds that Burnsville's standalone restaurant is proposed to open daily at 7 a.m. and close at 10 p.m. Sunday through Thursday, and extended hours until midnight on Friday and Saturday.
While there is no set date or time yet for when the location will begin construction or open, we all hope it is soon!
All information is credited to the article from bringmethenews.com.
Top 20 Minnesota Breweries From All Over the State
Top breweries in the Minnesota ranked according to Brewery Stars with representation from all over the state