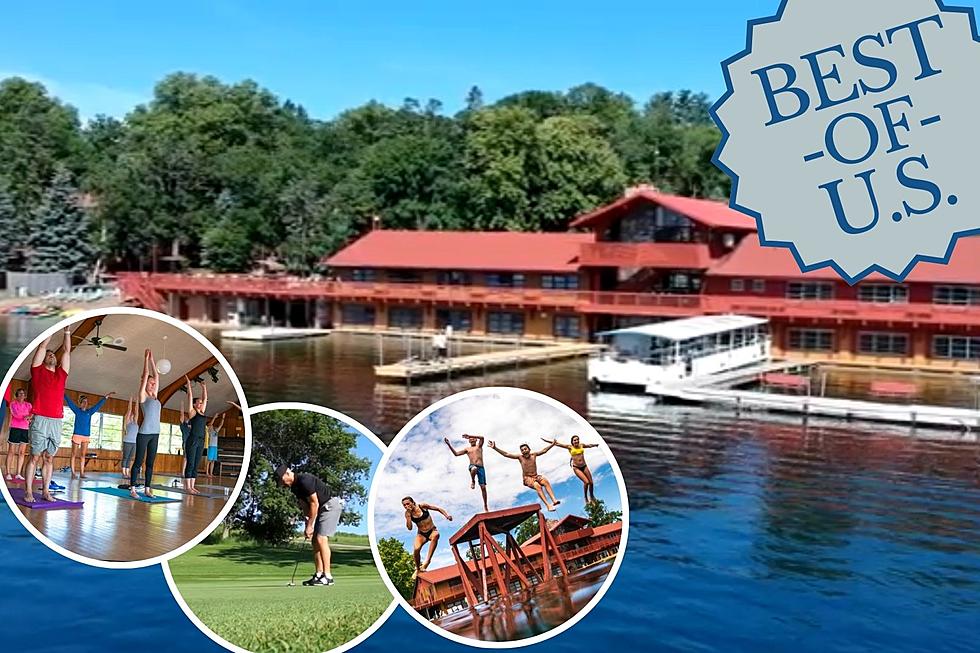 Did You Know 1 Of America's Best All-Inclusive Resorts Is In Minnesota?
All photos are credited to Fair Hills Resort on Facebook
When we think of all-inclusive resorts we tend to think of Mexico or the Caribbean and fancy places right on the ocean with cool amenities, but there are actually really nice all-inclusive resorts within the U.S, and they are more than just your beachy resort!
In fact, all-inclusive resorts in America range from "dude ranches serving elevated Western fare under boundless skies to glamping lodges near ski mountains and national parks to wellness-focused retreats in the desert and even America's only private island resort," explains The Points Guy, a national travel site.
The national travel site has compiled a list of the 16 best all-inclusive resorts in the United States and guess what? It includes one in Minnesota!
Aside from Listing all-inclusive resorts in Key Largo, Florida, Tucson, Arizona, and even Highland, New York, The Points Guy lists Fair Hills Resort southwest of Detroit Lakes among its 16 picks!
The Points Guy shares the following about Fair Hills Resort:
For the young and young at heart, Fair Hills Resort is an oasis of fun in Minnesota that's open from May-September and harks back to the glory days of a typical American vacation: one with goofy games, waterslides, campfires and cabins.
During your stay at Fair Hills, your one-to-four-bedroom cabins are basic and have no air conditioning, but they did this to add to the camp vibe the entire place gives off. In addition, three meals daily are included with stays and announced by the clang of a bell echoing throughout the resort.
Breakfast is a buffet while lunch is lighter, with a salad bar and twice-weekly picnics. Dinner is a rotating three-course menu that can include dishes such as steak, prime rib or Minnesota walleye fish. There is also off-menu cold items available.
The activities are wide-ranging, too. In fact, the 94-year-old resort has a detailed calendar showing exactly what the family can expect. Treasure hunts, Zumba classes, capture the flag, river tubing, scavenger hunts, and talent shows are all on offer. But don't fret parents, adult activities like poker night are scheduled, too. Sports include tennis and an 18-hole golf course and lake activities are also available if the calendar gets a little too overwhelming.
Fair Hills Resort rates start at $197 per night for adults, $106 per night for kids ages 6 to 12 and are free most dates for kids ages 4 and 5. It's always free for kids under 3. A detailed calendar of rates, including specials if booking for seven nights, is available online.
So in Summary The Points Guy gives us the basics: what it is best for, why people stay, and best way to book:
Best For: Fun for the whole family to enjoy together or on their own.
Why Stay Here: Fair Hills is like summer camp for the whole family, complete with lake activities, talent shows and root beer floats (and alcohol for the adults).
Best Way to Book: Book directly with Fair Hills Resort.
With that, I hope this is intrigued you and not only made you happy that a Minnesota Resort is one of the best in the nation but has you daydreaming about those classic American summers you need to have right now!
All information is credited to thepointsguy.com.
11 Things That Happen In The Spring That People in Minnesota Hate
We love that the weather is getting warmer in Minnesota, Iowa, Wisconsin, and Illinois but there are a few things about spring that don't bring us joy.
Actually, a few of these things even make us gag.