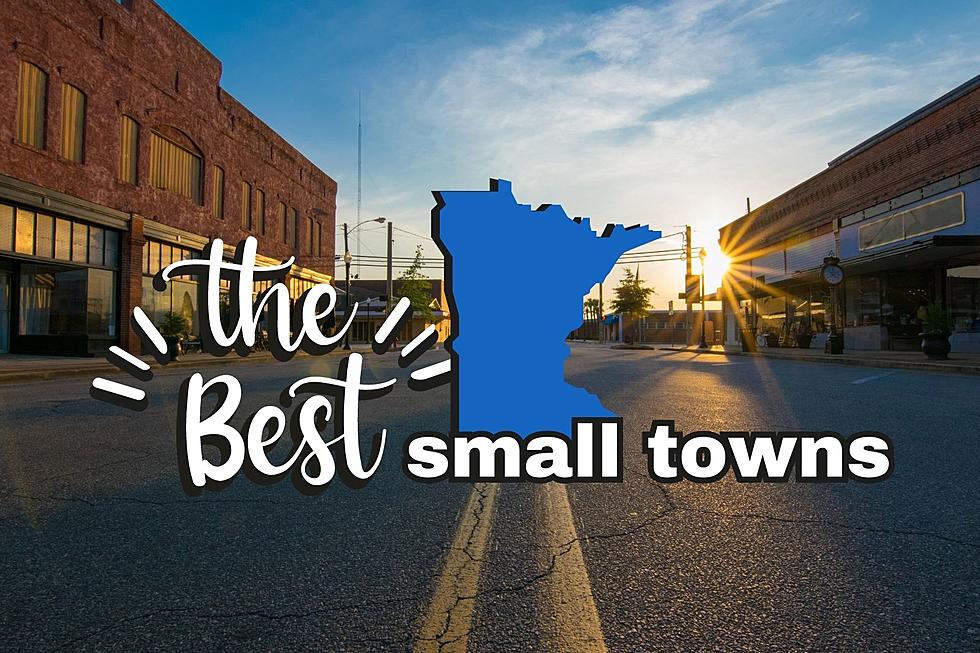 Two Minnesota Towns Named Best in the US with Less than 10,000 People
Canva
With so many small towns to visit in Minnesota, it's hard to figure out which ones to stop by. They all have their own uniqueness to them. Thanks to a list from Far and Wide, I've got two Minnesota small towns that are a must-see.
This list contains 100 of the best small towns to live in or visit and they all have less than 10,000 people! So truly a small town. There are also two Iowa towns that made the list and three Wisconsin towns. So let's take a look at them all!

Wisconsin's Best Small Towns
With a population of less than 10,000 people, these three small Wisconsin towns are definitely charming places to check out.
Up first:
Mineral Point, WI has a population of 2,565. It's in southwest Wisconsin so it's in the amazing driftless region. For such a small town, there are so many things to do and so many local shops the visit.
Next is Hayward, WI with a population of 2,539. It's in northwest Wisconsin and despite their size, they have some huge annual events. Those include North America's largest Honor the Earth Pow Wow, the Annual Musky Festival, and the world-renowned American Birkebeiner cross-country ski race.
Finally, for the best Wisconsin small towns, we have Stockholm, WI with a population of just 76. It's located just over the Minnesota-Wisconsin border from Lake City so they have beautiful Mississippi River views. They have also dubbed themselves 'America's Coziest Village' according to their town's website.
Iowa's Best Small Towns
Moving on to Iowa's best small towns...
First, we have Fairfield, IA with a population of 9,641, which is located in the southeast area of Iowa. I've never been to Fairfield but it looks like they have some really cool restaurants and bars to visit along with some great places for outdoor recreation.
And the next best small town in Iowa is Decorah, IA with a population of 7,747. As many southeastern Minnesotans know (and Iowans, too), Decorah is beautiful. It's a great place to spend time outdoors but it's also home of Luther College and Toppling Goliath, a popular brewery.
Minnesota's Best Small Towns
And finally, we have the best small towns in Minnesota according to Far and Wide! Let's see if we agree.
Up first: Perham, MN with a population of 3,572. It's located between Fargo and Brainerd amongst tons of lakes. They are in the heart of Minnesota's lake country, as they say on their website, so there are plenty of places to swim, boat, or go fishing. And of course, they have great local shops to check out.
And finally, Grand Marais, MN with a population of 1,337 up in northern Minnesota, past Duluth. Grand Marais is such a beautiful and adorable town! If you love Duluth but have been up to Grand Marais, I would highly recommend it.
12 Minnesota Small Towns Known for Big Things
There are tons of small towns around Minnesota that shape our state for a variety of reasons. And some of these small towns are known for pretty big things despite their population size.