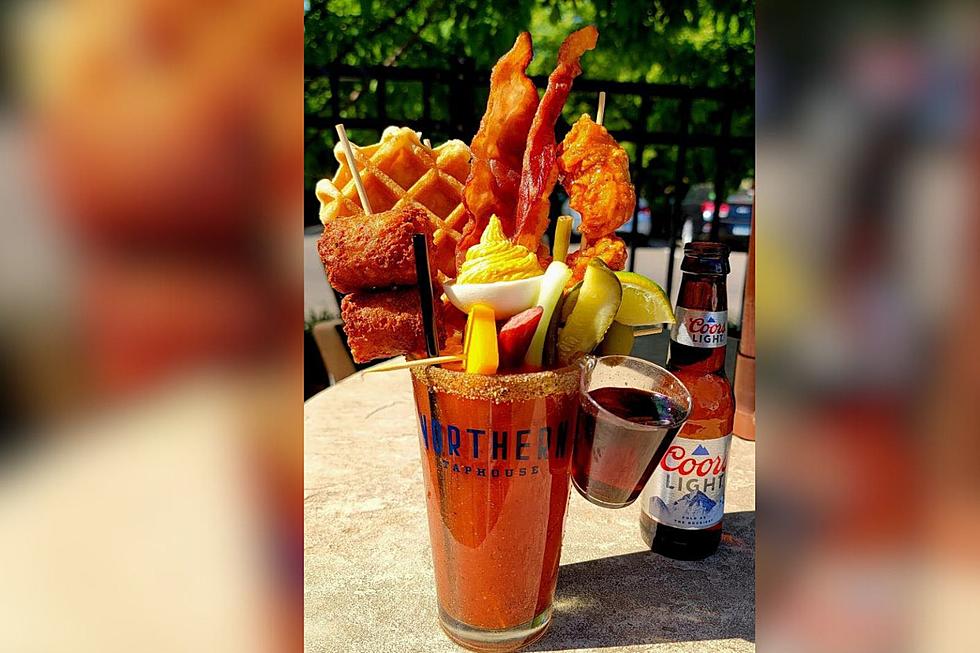 Bacon Lover's Dream! Breakfast Bloody Mary Available For Short Time At Minnesota Tap House
Northern Tap House Plymouth Facebook
Once again, a restaurant in Minnesota is making my mouth water with their featured bloody mary of the Month. This drink includes an entire breakfast buffet!
It starts off with the classic Bloody Mary mix, but they use bacon-washed vodka. The bacon doesn't stop there. They add Applewood bacon, jumbo bacon cheddar chive tots, and candied bacon wings.

That's just for starters. Next, they throw on a Belgian Waffel, a deviled egg, and even a shot of maple syrup for your dunking pleasure. Don't forget the standard skewer that includes a pickle, beef stick, asparagus, and cheese. This is really a meal all on its own and is only available in June.
Where do you find it? At the Northern Tap House in Plymouth, Minnesota. It's available for the month of June (June 1 - June 30).
There are multiple Northern Tap Houses, but this featured Breakfast Bloody Mary is only available at the Plymouth location.
The same place features a Bloody Mary special that changes each month. They are a big hit among customers, and each month's post is highly anticipated.
If you hurry, you can get the May special still. Now that looks like a cheese overload.
Some of my favorites include their NCAA Basketball Tournament Bloody Mary. This one had a shot of cheese!
You can find the Northern Tap House - Plymouth at 220 Carlson Pkwy N, Plymouth, MN, United States, Minnesota. They are open 7 days a week from 11 am - 10 pm.
What Are the Signature Drinks From Every State?